Solar power still has a lot of development potential
21/11/2023
As of the end of 2022, Vietnam's power system has a total installed capacity of 80,704 MW. Of which, solar power is about 16,567 MW, accounting for about 20.5% (including more than 9,000 MW of rooftop solar power)…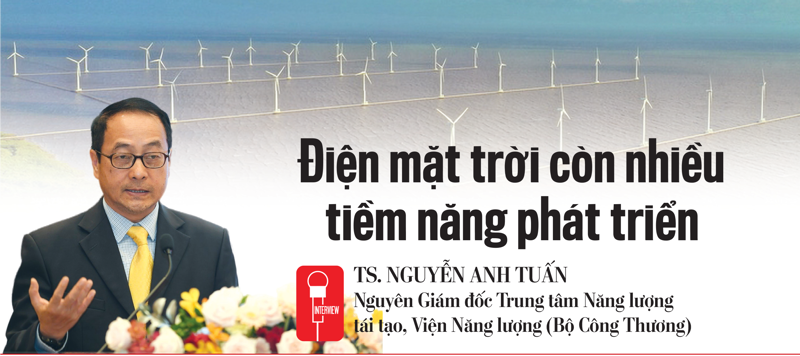 However, in recent years, due to the subsidized electricity purchase price (FIT) policy, many organizations and individuals have "taken advantage" of FIT prices. This has led to massive solar power projects developing "overheating", resulting in the power grid and load not being able to meet the demand, causing congestion in many transmission lines. Currently, many investors still propose many new solar power projects, but the Ministry of Industry and Trade has not accepted them and has not been added to the planning.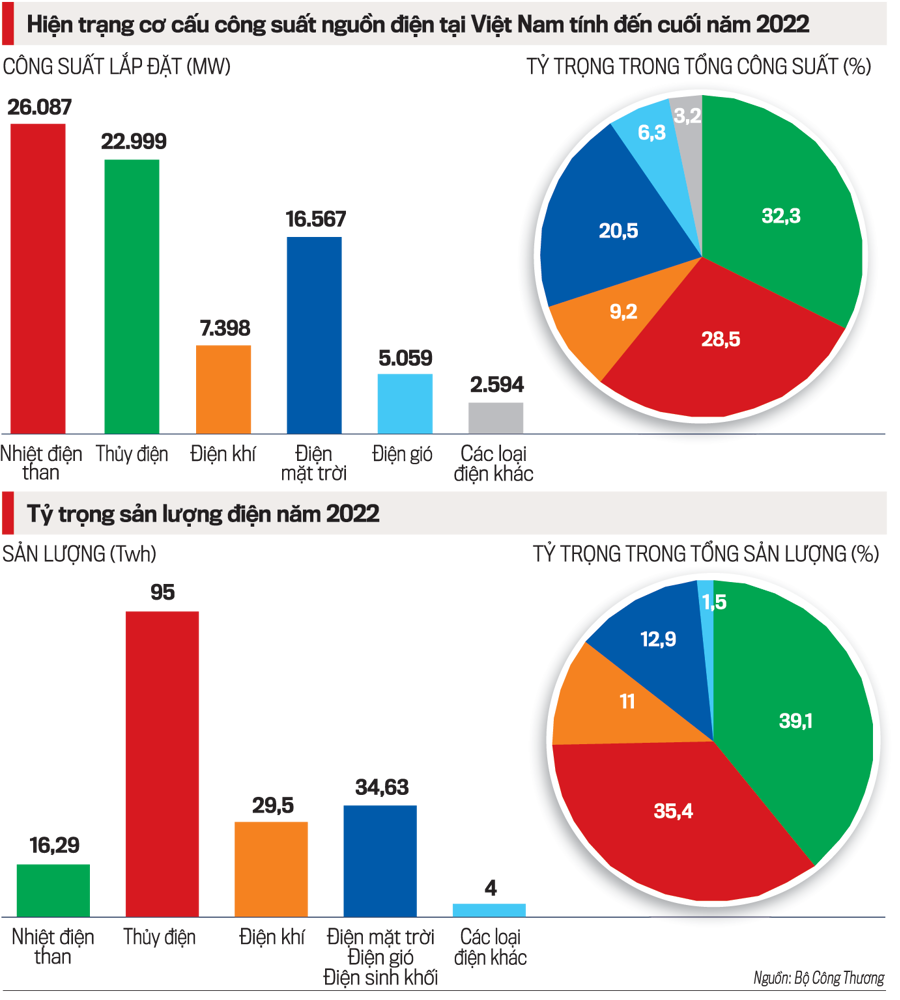 Is it true that the Ministry of Industry and Trade is "abandoning" solar power, sir?
Saying "abandonment" of solar power is not correct. Power Plan 8 sets the goal of strongly developing renewable energy sources for electricity production, reaching a rate of about 30.9-39.2% by 2030, with an orientation to 2050, the rate of renewable energy create up to 67.5-71.5%. In particular, the scale of solar power by 2030 is 20,591 MW and by 2050 is 189,000 MW, producing 252 – 291 billion kWh of electricity per year. Thus, the target by 2050 is that solar power will be the largest type of electricity, accounting for more than 38.5% of the total capacity of power sources in our country.
The government also allows and encourages the "self-produced, self-consumed" type of rooftop solar power. To increase the ability of households to self-supply electricity, it is expected that by 2030, about 50% of office buildings, agencies, factories, enterprises and 50% of homes will use solar power. The goal by 2050 is that this power source will reach 39,500 MW.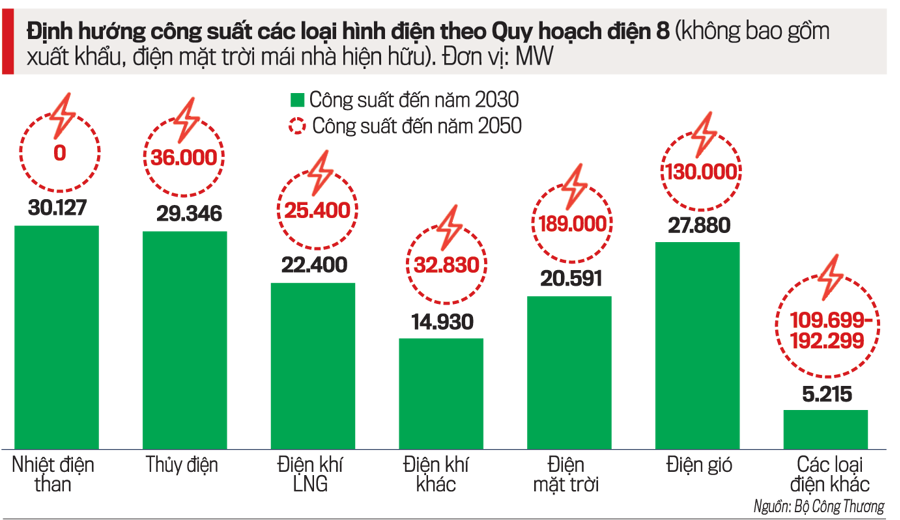 Recently, the Ministry of Industry and Trade submitted to the Prime Minister a Report on the mechanism for developing rooftop solar power. In this Report, the Ministry of Industry and Trade proposes three models for developing this power source. Firstly, the form of rooftop solar power is for self-use, not selling electricity to other organizations or individuals, applicable to houses, offices, and business headquarters. Second, additional subjects will be solar power installed in industrial parks, export processing zones, economic zones, and factories. Third, solar power is not linked to the national grid, which is recommended by the Ministry of Industry and Trade to be given priority for development.
However, due to concerns that rooftop solar power continues to develop rapidly, the Ministry of Industry and Trade has proposed that the Government issue a Decree on management of this field in an abridged order with the view that even though solar power is self-used, If not connected to the national grid, the State still needs to manage it. In particular, a mechanism will be created to allow solar power to be linked to the electricity system (connected behind the meter) without having to implement a connection agreement with the electricity industry.
What do you think are the advantages, disadvantages and challenges for solar power today?
Up to now, thanks to rapidly developing technology, the price of solar power in the world has decreased by 89% in the past 10 years. Currently, solar power has become the cleanest and cheapest energy source among all types of power generation sources, so it needs to be given priority for development. That is also the reason why in 2023, the Ministry of Industry and Trade issued a decision on the transitional solar power purchase price frame for ground-mounted solar power to only 1,184.90 VND/kWh, lower than the price of 1,644 VND/kWh in the past. points before December 31, 2020.
"Currently and in the future, the development of solar power is very favorable due to price competition compared to other types of electricity. Furthermore, the electricity industry is planning to convert its energy structure from coal. rocks and fossil fuels to clean electricity, along with other low-emission energy sources."
However, developing solar power in particular and renewable energy in general is still facing many challenges. That is the initial support policy, including price support; instability, depending on weather and climate, causing high system costs; high initial investment costs; Distributed resources depend on location and local resources; lack of appropriate infrastructure due to the transmission grid not meeting demand; The issue of electricity storage is still in its infancy; environmental impact (including: recyclability and reuse; extensive and inefficient land use).
Therefore, to encourage the development of solar power sources, it is necessary to have initial support policies, including price support; create conditions for investors to access low-interest credit, access to land, premises and other preferential mechanisms.
What policy recommendations do you have for solar power development in particular and renewable energy in general?
The Electricity Law (amended and supplemented) 2022, although emphasizing the aspects of stable, safe and cost-effective power supply, allows economic sectors to invest in power transmission grids and automatically operates the power transmission grid invested by us, but up to now there has been no decree and implementation instructions. On the other hand, the development of the energy industry is posing a new problem of managing the demand for distributed energy sources.
The Electricity Law 2022 has made amendments, allowing economic sectors to invest in power transmission grids; Investors operate the power transmission grid they invested in themselves. However, up to now there are still no decrees and legal regulations guiding implementation, so the Law has been amended for 1.5 years but still lacks conditions for implementation. This is one of the legal bottlenecks. Therefore, it is recommended that the Government and the Ministry of Industry and Trade soon issue decrees guiding the implementation of the Electricity Law, especially policy mechanisms for private individuals to invest in their own power transmission system and operate the system. they invest themselves.
Without creating a competitive and transparent energy production market, it will be difficult to implement energy transition on a regional or national scale. Therefore, it is recommended that the Ministry of Industry and Trade and the Government soon research and promulgate the Renewable Energy Law, detailing the key role for Vietnam's energy transition in the coming time. In particular, it is necessary to specify in the Renewable Energy Law strong and stable long-term support policy mechanisms to ensure a sustainable and reasonable energy transition.